FC Barcelona Stadium Tour
To product
Certainly a must-do on your trip to Barcelona, even if you are not a big football fan!
Learn more about the amazing story of the football team that represents their city, region, and the Catalan language and identity with honour and pride. The ticket includes entrance to the museum as well as to the impressive Camp Nou Football Stadium and the Multimedia Zone where you can relive Barça's finest moments.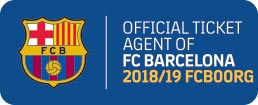 Opening Hours – Museum:
Monday to Saturday, (from 4th April to 9th October) from 10 am to 8 m. - Camp Nou Tour until one hour before the Museum closes.
The rest of the year the museum opening hours are from 10 am to 6.30 pm
Sundays and public holidays, from 10 am to 2.30 pm - Camp Nou Tour until one hour before the Museum closes.
Click here to check opening hours of the Museum for 2019
The Camp Nou Experience is closed on matchdays for the Spanish League and on matchdays (and the day before matchday) for the Champions League. When you have bought a ticket for one of these dates you can enter the Camp Nou Experience the day before or the day after.
The coming dates the Camp Nou Experience is closed:
August: 4, 10 and 25
September: 15 and 25
October: 6, 27 and 30
November: 10
December: 8, 22 and 25
How does it work?
It is very simple. Just select a timeslot when you would like to visit. Once you have entered the Camp Nou Experience, then you can stay as long as you want. When you don´t know yet when to visit the Camp Nou Experience you can also book open tickets (no date selection) which are more expensive.
Location:
Avenida de Joan XXIII
08028 Barcelona
Metro to Maria Cristina or Collblanc
You also have the possibility to book "open" tickets to visit the FC Barcelona Stadium (without date selection) but beware the price is higher. Click "here"
Go directly to the entrance. Bring your voucher and skip the waiting line. You do not need to go to a special location to exchange the voucher for your ticket!