To product
THE PICASSO MUSEUM, OPENED IN 1963, ALSO REVEALS PABLO'S DEEP RELATIONSHIP WITH BARCELONA: AN INTIMATE, SOLID RELATIONSHIP THAT WAS SHAPED IN HIS ADOLESCENCE AND YOUTH AND CONTINUED UNTIL HIS DEATH.
Barcelona's Museu Picasso was the first, and it was the only museum opened at the request of the artist. Picasso Museum (Museu Picasso) is Barcelona's most visited art collection. The museum's architecture is an attraction itself as you will find it in five Gothic mansions full of famous paintings like plenty of self-portraits or his studies of "Las Meninas". Like those, more than 4,251 other artworks from a unique artist called Pablo Picasso.
What do we offer?
Skip-the-line access tickets to the wonderful Picasso museum. This place will delight any art lover because it's not only showing the work of the iconic painter, but also a lot of oeuvres from his private collection too.
How does it work?
Just follow those simple steps:
1. Choose the date of when you would like to visit Picasso museum
2. Choose the preferred time slote for your entrance
3. Choose the type of ticket you need (Adult, Child, Senior)
4. Finish the payment process
5. Once the booking is completed you will receive your tickets on your e-mail address in 24 hours.
We know that you don't want to waste time while visiting the beautiful Barcelona! That's why we offer these tickets as skip-the-line ones. This will allow you to avoid the long waiting lines that can be found normally at Picasso Museum, grating you a fast way access.
Highlights
The museum is wheelchair accessible and offers free wheelchair service
The museum is open year-round, but be aware it's closed on Mondays and has extended hours on Thursdays.
Opening hours:
Monday
From 10am to 5pm
Tuesday to Sundays (except Thursdays)
From 9am to 8.30pm
How to get there?
Carrer Montcada, 15-23, 08003 Barcelona, Spain
Located in El Born, in the heart of Barcelona old town (Ciutat Vella). You have different options:
Metro
Line 4 - Jaume I and Line 1 - Arc de Triomf
Bus
120 45 V15 V17 Via Laietana
39 51 H14 Passeig Picasso
This date is not available
There are some other activities available for 24 april: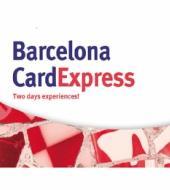 Tickets
Barcelona Card Express
Discover many of Barcelona's cultural and leisure activities, with the Barcelona Card Express. You can get the train to and from the airport, and 48 hours...
If you prefer the same tickets, you can switch to the first available date.